Mission Control has shipped a set of Lunar Radios for a commercial lunar mission in 2022-2023!

Our Lunar Radio set is a pair of electronic interface modules that provide a bidirectional wireless communication channel between two communication nodes. It is designed to integrate on lunar landers and rovers and enable lunar surface operations.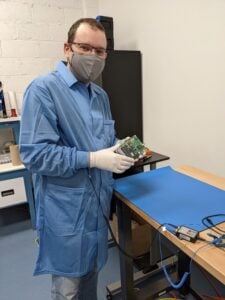 Our current design is baselined on the use of a Xiphos Q7S but can be customized for your mission's architecture, hardware and interface choices. The high flexibility makes it easier to adapt our radio system for your needs.
In addition to the core feature of enabling wireless surface communications, you can leverage our radio system for additional capabilities such as:
HDRM (Hold Down Release Mechanism) control for rover deployments
Wired interface with the rover prior to deployment
Edge computing, AI, and data processing applications to boost your rover mission
On the ground, you can use our web-based Mission Control Software platform to allow your team to seamlessly operate your rover.
Download our brochure for more information, and contact us to tell us about your mission and how we can help!